I gotta admit I'll never try again to make a real review for a friend's band effort.
Too difficult, man, and deeply challengin to the heart!
But "Somewhere That Way", by Canadian band Nectar, deserved all this from me and Mikael, so there you go, we wrote it.

Mainly I've passed weeks asking myself if I was liking Somewhere That Way for I blindly got caught in the pleasure of adfirming "Hey! They're Chris's band! So someway I know them" or for their music being -actually- really really good.
I deleted a big part of my doubts involving my best tasting friends, and , well, when ALL of them have expressed nothing else but a huge enthousiasm, I was keen to realize than ok, I could have been of a partial side, but they were not, so in the end I was gifted with something effectively THAT good.
The sureness I got anyway when I played the record to my father, a former soul of the 60/70s and a great music lover.
He stated: "It sounds like a good old record,but you can hear that this is 2000 stuff indeed"


So here I am, now, trying to convince everyone in getting this album.
It truely deserves many and many ears to listen and appreciate it.
And I am sure at this point I'd say it even not knowing one of the members of the band.

Well, first of all STW has got a major point in favour. it paints a structured world of its own,it builds a certain defined atmosphere, with variety and yet a reliable composition of all parts together, and all this -another great achievement in days when everyone makes endless and pointless chords gather together to describe nothing- in less than 40 minutes.
10 songs which all last between 2.44 and 4.55...
Believe. you'll think that the shortest of them couldn't be any better if it'd be longer, and viceversa goes for the one which lasts the most.
Influences?
Many, all wisely hided enough to please the trained mind in the research of them, an old good flavour which comes back in era of noise and sounds which are all uncomplete, but at the same time sounds which have been made new and fresh again by the band, a re-elaboration which speaks of them not as stealers, but as music lovers with a big talent of their own.
Talent you can't borrow: you either have or you don't, and well, they have got it.

STW is in itself a truely original work.

Oh, and Nectar can play.. God they absolutely can!
I'd say this is a tripping kind of record, one of those you happily put in your car stereo while making a journey, and when it ends, after having added sparkling to the real landscapes you are seeing while running, you immediatly thinks "no.. already finished?" and you play it again.
And again.
and again...

It's hard to point out songs and so on from this album. Cos it's a very very flowing record. All fits together as perfect as a puzzle. You can really feel the band playing together and trying hard to make a good sounding record.
So below we'll give a short description of every track in there.
Read it, then look out for the black and white bridge on the cover!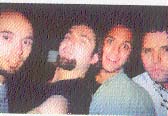 "Modern Making"
The album starts with a perfect crafted rock song. You can really feel the north american style in this one. It has a really good guitar riff that leads the song throughout, right from the shaking intro, to the pointing bridge, till the screaming outro with the fading double chorus. The lyrics are very good as well.
Only minor flau is the ending with the repeated "whats my name" which scarily reminds you of Blink 182, but that's better and you will be glad for it.And the main chorus seems to be made for be sung by everyone at a gig, some of the 80's energy stays there , and we are talking about what has been good in the 80's, be careful.
"Change of Scene"
Another great guitar riff is leading this song. The chorus is very catchy and makes you feel you've heard it before, but in the positive way.Actually, this song mixes the distintive sound of the 90's with the clear ability in playing of bands like Led Zep. Pure rock inspired from the past (when rock was at its peak) but with lots of personalised views on what they do.This song is Metallica trying to meet Soundgarden, and getting to something different which is actually... Nectar!
The mood of this song is quite dark, a trip with rolercoasting patterns, of a relationship which is maybe crawling down ("The distance between me and you it's exceeding"), in a jungle of bad thoughts and fears, till something come, and saves...
You'll love this one.

"Under a Different Sky"
The first song sang by Chris, the lead guitarist. A very beautiful piece. Has great soothing and floating guitars and mood and a ton of psychedelia in the background.It reminds of Stone Roses, Deep Purple and Doors and Grateful Dead, while it embraces you in a smooth involving trap. Lovely warm lyrics, apt to enforce the effect, as much as it does the contrast between the arising lines of guitars and the downwarding, deep, slow sounding of Chris's voice.
A beautiful request for love and offering of protection, which will melt your heart. Guarantee.

"Incognito"
Yet another song starting off with a wonderful guitar line. The song is mostly built over the guitars on this one. The vocals are not at the front. It shapes a landscape of mustique which is very pleasant. Having also a resemblence of Unfinished Sympathy by Massive Attack due to the "bang on glasses" sound that keeps rolling back and forth during the song. A very nice touch.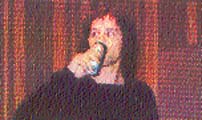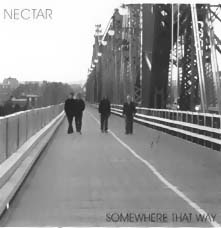 Somewhere That Way tracklist:
1-modern making
2-change of scene
3-under a different sky
4-incognito
5-red sands
6-by design
7-everybody wins
8-asnaock
9-supermodel
10-tomorrow's sun (edit)
<<<<<<<<<<<<<<<<<<<<<<<<<<<<<<<<<<<

Somewhere That Way rating: 8

<<<<<<<<<<<<<<<<<<<<<<<<<<<<<<<<<<<

Visit Nectar site at:



"Red Sands"
Reagge. Is the first thing you will think when you hear this one. But of course, this is a rock band, so they have sparkled the song with their own spiritual rock side. And it works perfectly. Probably the most catchy song on the record. THE radio/MTV hit..if they would ever want one. The drums really makes the song groovy.

"By Design"
The closest of Nectar sounding like Soundgarden, and actually the most American sounding of the whole record indeed. Carpets of guitar sounds suddenly pausing, like taking a deep breath and starting to run again.
And a wonderful solo, as it seems to be so many wonderful solos on this record, before the vocoder and the energy comes back and floods within the listener.
"The piece you find in the back of your mind is cold" they sing, -and the singer has to be praised for Nectar are bound to create not so obvious melodies to sing, and he makes them perfectly and keeps them all in tune, so good work man!- "Let me disveil about your pain to find what's left and start again". Keep on running, keep on...


"Everybody Wins"
Starts off with a haunting tingeling sound, very reminiscent of Pink Floyd's "Money" mood, but then turning you on to appreciate a totally new kind of feeling, for the subject of the tune mainly. Viciously infectious, and dreaming , and yet if at a certain point you won't shake over this, I don't know what could make you shake really... Lyrics are once again a reveal, as it is the poignant drumming bridge with howling little bits of sounds making all so enrapturing and fascinating.Whispers have never sounded sexier than here, if not in some Cure's early tracks."Sleep now baby.. sleep...now..."

"Asnaock"
Fuckin' In The Bushes meeting Immigrant Song. A very fantastic instrumental. And with the icelandic influence of the name you can really feel the power of this song. Wether you see vikings in your head, on a ship over the ocean, or you sit in a fast car on a highway. This song brings all your biggest adventure feelings out. Adrenaline from start to finish.

"Supermodel"
Nectar's try on making rocking pop. One of the best on the album, perfect for driving out for a Saturday night, it's a song for a full on type of crew, and yet it's sarchastic enough for being not only a friendly radio tune.
The chorus is something everyone of us has felt at least once towards one of those girls you see in clubs, thinkin they are all Naomi or something:"She's just an ordinary girl, but she thinks she's a supermodel".
But there's some more, as I said: this is a story of wasted times, wasted lives, wasted perspectives all defined by a single wasted dream of a cute girl which believes she will be cutie still for the rest of her life, missing out the rest every girl, every person should mainly be. And the Saturday night, and the whole existance of her and people around her, sounds actually like a noisy rhythm, when everyone likes to feel happy, but in the end everyone feels not.


"Tomorrow's Sun"
Another song sang by Chris and probably the greatest song on the record.It has got everything, lyrics, muisc, sense...I don't wanna sound hyperbolic, but I will anyway so live with it!
Tomorrow's Sun oozes of Stone Roses influences but again in the most positive way. You can really hear how they treat their influences in a respectful but still modern and innovative way. That guitars are perfect,they bring every part of the song together in a fantastic way.You'll like to see yourselves on stage after this, making rock as well, but there's a difference between the wide majority of us and Nectar,indeed.They can write a song like this, and we cannot.
"The edge of the world is waiting,
the outside world is shining,
are you gonna step out with me and see it?
The morning sun is shining,
come and step out to see it,
to see it..."
Then let Nectar take you higher than stars with the impressive solo, and dream away.
A classic.


The videos in the enhanced part of the cd


There are two videos in Nectar's cd that you will like: one is a live performance, the other a very dark and sinisterly dreaming kind of trip towards salvation.
You will appreciate the energy of lives of Nectar, and I bet you'll wish to yourselves to stay there, attached to the stage for real one day.
The video of Tomorrow's sun (a Chris's track!) is an imaginative dream/nightmare of re-born process, it speaks of freedom and love and hope.
Chris, you should have tried to look less menacing though.. You scared the hell out of me in a way first time I saw it!

Well, you should love the video a lot, and if you like, click on Nectar site above for some clips of it!!!